Hallandale Beach Restoration Company - Reconstruction And Remodeling
Putting your best foot forward is what you can do anytime in life. The same applies to scenarios of disaster as well, where everything seems lost and recovery seems like a distant hope. However, Hallandale Beach Restoration Companycan help you wade through it. Over the last 20 years, we have helped our customers in putting their best foot forward following a damage-causing event. Our team can present you with designs to remodel your home following disasters like a fire breakout, floods or damage caused due to water leakage so that your property looks better than it ever was. In addition, we can always assist you in scenarios where your property has undergone extensive damage and requires reconstruction.
Exclusive training is required in order to carry out the task of reconstruction/remodeling. We only hire the best and the teams undergo periodic training in order to keep them abreast with the latest techniques and methodologies prevalent in the arena. The property owners in Hallandale Beach, FL area have been reaching out to us for our superior services without a shadow of a doubt.
If you're looking to remodel your home after your dream design or want us to construct a partial section in your office after a fire has wrecked it, then 954-379-2883 is the number to call.
Reconstruction: Say goodbye to signs of damage:
The property you had built with a lot of effort and love can appear ruined beyond recognition post a disaster. If the task of restoration is not effectively completed, the signs of destruction might still be quiet evident which can steal away the beauty of your property. Hallandale Beach Restoration Company can come at aid and help in reconstructing the damaged sections and make your property look and feel brand new! Call us in to have our experts reach out to you and share their analysis. We will list down all the possible alternatives and associated costs to make the decision-making process easier. On finalizing the path ahead, we can get done with the job in no time and your property will get its lost luster back!
Remodeling: The desired look awaits you!
Your property might be appearing tarnished from the outside over time. It might have lost its sheen over the years and might be waiting for a makeover or there might have been an event that has caused significant damage to your home. We have been assisting property owners for over 20 years now in remodeling their homes and offices and achieving superior outcomes. If you are among those who love to follow the trend and want your home to appeal to all the onlookers and guests, we can make it happen. We can work on the design you already have on your mind for your property or can present options to choose from.
We undertake:
Bored of living in the same house for years and planning to get a complete makeover done? Call us now and we'll remodel your entire property.
In case only your living room or study needs modernization, we can take up the task of partial remodeling as well.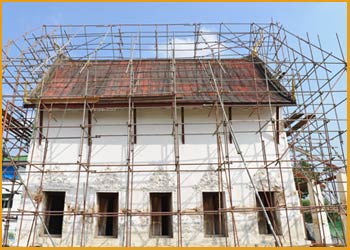 Following are some of the services we provide in Hallandale Beach, FL area:
Presenting design options
Refurbishing walls and ceilings
Carpentry
Kitchen/Bathroom remodeling
Installing new fittings and frames
Wall painting
Flooring
Replacing damaged items
Dehumidification and drying solutions
To know more about our products and services, give a call on 954-379-2883!